HELLO! I am currently on a music hiatus and focusing on the Wellness Work that I provide. I do video sessions and in person therapy. If you are in the Los Angeles area and interested in wellness you can find out more about the modalities I practice, EFT Tapping and Craniosacral therapy at
www.eftcranio.com


Blessings of peace, love and joy.
Santina



Videos of latest
live performances click here
Hi-resolution photos
HERE
Photos by Ethan Shvartzman
Buy Fantasy Park Here!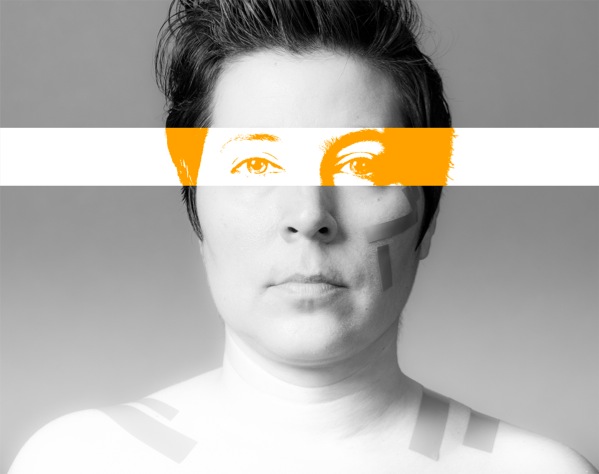 Los Angeles Singer Songwriter, Santina Giordano (Jor-Don-O) delivers Soul Positive Indie Rock with a voice that is raw, true and naked. The beauty and richness of her voice is complimented by her unapologetic songwriting.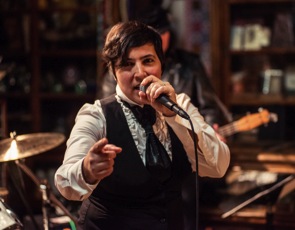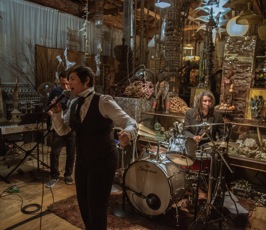 On Saturday January 23rd, over 100 people gathered at the MorYork Gallery in Highland Park
to celebrate the release of Fantasy Park, the newest album from indie rocker Santina Giordano.
The soaring ceilings and quirky space of the MorYork Gallery created a perfect backdrop for
Santina's saturated, soulful sound. "It sounds really nice in here. Her voice transcended," said
Obidio Martinez, who was part of the standing-room only crowd.
Santina performed a selection of tracks from her new album, including "Star" and "I'm Not
Disney," the song that inspired the album's title. In "Brave," she sang, "I'll be brave, I'll tell you
everything. Vulnerability is scary, yeah, but it's good for me."
Introspective, thought-provoking lyrics are characteristic of Santina's personal brand of "soul-
positive indie rock."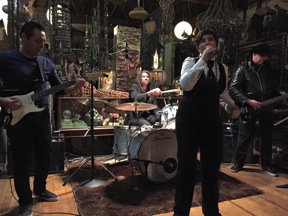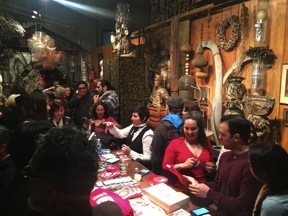 Santina began recording Fantasy Park in June 2015. Along with her partner Natalie Egnatchik,
she ran a successful crowdfunding campaign, raising $7500 to produce the album. It follows up
her solo debut album, Life is My Favorite Thing, which was released in 2010.
The audience at the release party was packed with longtime fans, many of them members of
the Los Angeles music scene. Todd Conner of the Offbeat Bar in Highland Park said, "Santina is
an icon in Highland Park. [The release party] brought together everyone in the music scene
from the last 10-15 years."
One of these figures was Arlo from Mr. T's Bowl in Highland Park, a celebrated sound man and
godfather of underground rock in LA. "Thought it was awesome," he said. "The sound was
great. The music was great. I love all the musicians."
Santina's band consisted of Carlos Melgar on guitar and John Montgomery on drums. Barry
Conley, who was also the album's engineer and co-producer, played on bass. Jazz keyboardist
Mark Etheredge stepped in for the final song, a stripped-down, dreamy version of "Star." Liz
Cabral handled sound.
"It's always better when you're with people who know what they're doing and play great music,"
said Montgomery. "[Santina] really knows what's she's doing."
Plans for a West Coast tour and radio visits are in the works.
SANTINA GIORDANO
emerges from the Los Angeles underground rock scene with her debut solo album LIFE IS MY FAVORITE THING (Released in 2010) Giordano's raw vocals and penetrating lyrics spare no season of the soul.


This provocatively honest album explores themes of regeneration and transformation, featuring 8 original songs. The sultry English/Italian vocals of
Full Moon Kiss
(as featured on the TV show
, Gossip Girl, )
to her soulful rendition of the classic song, House of the Rising Sun. Giordano reveals both a personal resilience and an immutable artistic resonance.

EVEN MORE ABOUT ME

REVIEWS

"I am a huge fan of Santina and her music. Her songs are amazing and her voice is nothing short of addictive."
- Pauley Perrette, Actor / Abbey Sciuto NCIS


As an early fan of Hidden, I am delighted that singer-songwriter Santina Giordano has re-emerged on her own with a strong collection of original tunes. While staying true to her punk and grunge roots, Santina's sound today is a reflection of many strong women from diverse musical traditions who preceded her: I hear traces of Chrissie Hynde, Flora Purim, Carole King, Diana Krall, Sheryl Crow to name but a few.

Santina sighs, she screams, she purrs and growls, she laughs and cajoles — the emotions are there for all to see/hear. The tunes are well written and interesting, the musicianship excellent. A great new adddition to my playlist! -- Dr. Wanda Bryant (Pasadena City College, CalArts,)
Santina sings the truth. The sound is today's "Indie," but she captures the essence of the Beat poets reading their best works in San Francisco coffee houses 50 years ago. --Scott Carter, former Radio Host
STREAM